Welcome to Our Site
Ethos of Dunfermline Waterpolo Club
To provide support in which all club members have the opportunity to work hard to achieve their personal best.
To encourage individual and team development within a strong supportive sporting framework
To create and sustain an environment where everyone is equally valued.
East District Development Tournament on 25 Jun
Waterpolo competition returned to Carnegie Leisure Centre on Saturday 25 Jun with around 60 young players from 4 local clubs competing in the latest East District tournament. Another successful afternoon with plenty of goals, great saves and stacks of effort from the players.
Boys and girls from Dunfermline, Warrender, Portobello and West Edinburgh Stingrays took part and it was great to see some new faces coming along.
Coach Iain said afterwards: "Fantastic performances today by everyone. I see improvement every time we play. We'll done👍💪. Last session on Tuesday. Games night with maybe some shooting practice😉🤔"
DWPC Team was Eve,James, Euan, John, Nichol, Ava, Ruby, Bryn, Libby and Eli.
Our thanks to Ben, Lewis and Iain for taking up the ref duties, to Jeanette who run the timing system and all the coaches, without whom this event wouldn't have been the success it was.
Unfortunately this is the last event for this season however we are hoping to try and hold further events in the autumn/spring.
Final thanks to all the supporters who again filled the balcony and created a positive and supportive atmosphere supporting their teams.
Photos thanks to Keith Bayne.
DWPC Men Retain Warr 5's trophy
After a 2 year gap due to covid, DWPC Men competed in the Warr 5's Mens tournament trophy on Sat 18 Jun when it was held at RCP for the first time. The men successfully retained the trophy.
2022 Scottish Championships
Clean sweep for DunfermlineWPC ladies as 2004 DWPC/MHW Girls, 2006 DWPC/MHW girls and DWPC Snr women teams all completed the 2022 Scottish League and 2022 Scottish Champs doubles and maintained this seasons unbeaten runs with well fought wins yesterday.
Game 1 of the day at the Scottish WaterPolo National Championships ended in a 22-8 victory for DunfermlineWPC over Portobello in the 2004+ girls final: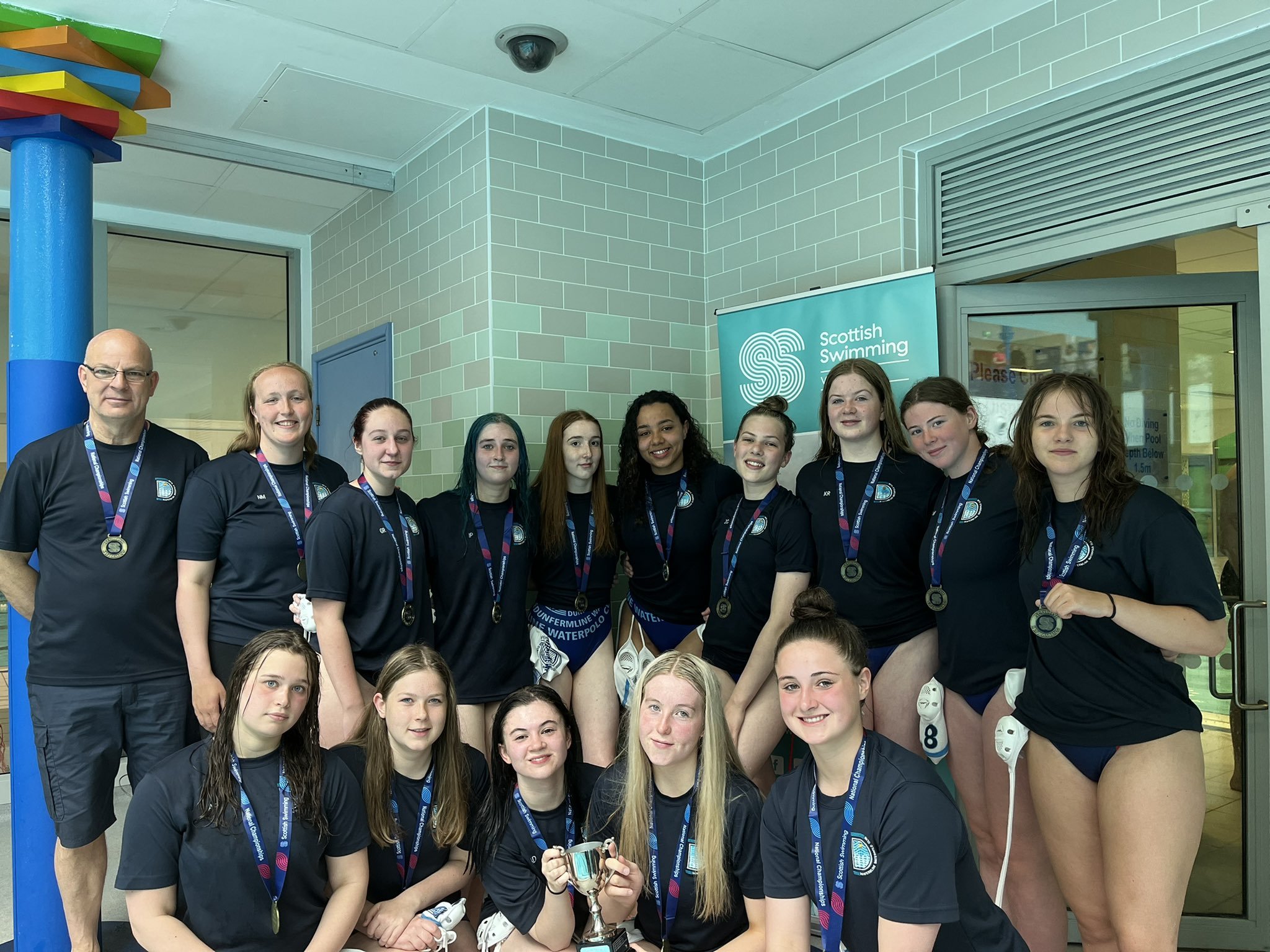 Another home victory for Dunfermline. This time a 25-3 win over KKASC in the 2006+ Girls final.
A clean sweep in the women's matches for Dunfermline, as they take a 17-5 win over Warrender. Another tightly contested affair!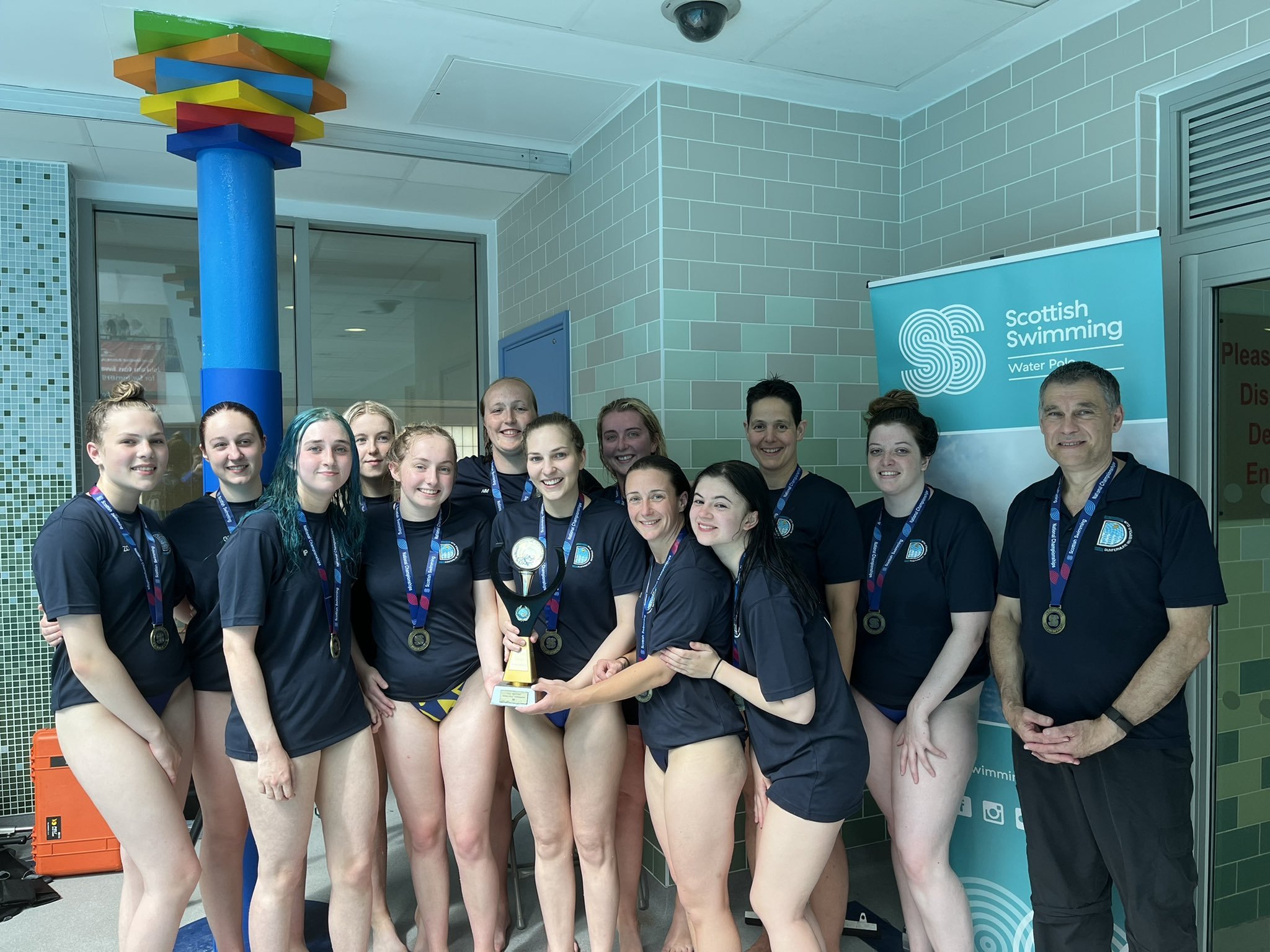 In the Mens final, a spirited effort from DunfermlineWPC Senior men saw them take the silver medal. In a tough, hard fought game it was good experience for the younger players, many in their first senior final.
2022 Scottish National League Winners
Congratulations to all the players taking part in the 2022 Scottish National League. Our 2006 and 2004 girls teams joined with Menzieshill girls to win the leagues undefeated whilst the Senior women also won their league undefeated. Senior Men came out on top after a close finish to their league competition.
Well done to all.