Welcome to Our Site
Ethos of Dunfermline Waterpolo Club
To provide support in which all club members have the opportunity to work hard to achieve their personal best.
To encourage individual and team development within a strong supportive sporting framework
To create and sustain an environment where everyone is equally valued.
BMC Cup for Boys and U15s (2009+) Dev Tournament Results
The BMC Cup 2023 will be held over the weekend of December 8th to 10th at Carnegie Leisure Centre!
Game Formats
U18s = 4 x 6mins check time, 2mins half time, 1 time out per team, used anytime
U15s = 2 x 6mins check time, 2mins half time, no swapping of ends and no time outs.
The live match schedule can be found via this link: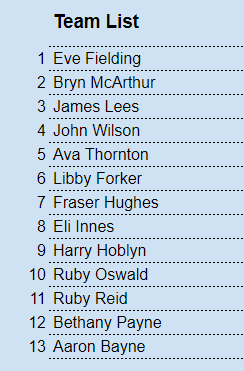 DWPC Famous Christmas Hamper Raffle
Thank you for everyone who has offered donations to The DWPC Christmas Raffle featuring a Hamper of M&S items however there are still items to be taken and extra raffle prizes sought. We are distributing raffle tickets for sale at club sessions or can also put some aside.
This is our key fundraising effort of 2023 and monies will be used to support club activities in 2024. A list of items needed to make up the hamper is on the online form on our website and all items for the hamper should be from Marks and Spencer range. Other prizes for the raffle are also welcome.
CLOSING DATE TUESDAY 19th DECEMBER 2023
(Hand-over of Perishables to be made closer to 21st December Draw date)
The raffle will be drawn on 21 Dec (Raffle Tickets available on club nights) which will be our last club night before the Christmas break. To donate M&S items for the hamper follow the link on this home page (top LH corner): https://www.dunfermline-wpc.co.uk/Forms/hamper_form_2023.php
Please pass all donations to Club Pres or Sec. Thank you
Match Report –Senior Men SNL – DWPC v Western 5/12/23
A comfortable 25-6 victory for DWPC men over Western at Carnegie Leisure Centre. Finishing the Ist quarter 5-1, Dunfermline kept up the tempo in the 2nd and doubled the margin by half time despite being denied several times by the 'woodwork'.
Western fought hard to stay in the game but 5 goals each from Euan Nesbitt and Rory Nesbit over the first 3 quarters gave Dunfermline coach Coach Davie Stewart opportunity to offer extra pool time to the younger members of the squad.
Squadlist (goals) - T Cameron, T Bradshaw (10, E Broatch (2), C Campbell (1), D Fielding (2), A Johnstone (2), E Nesbitt (5), R Henderson (2), R Nesbitt (5), B Nesbitt, G Tachtatzis (1), M Speed (3).
U14 Girls at Inter-regions for SCO NDS
Congratulations to the following U14 Girls selected to represent Scotland at the Swim England Inter Regionals Tournament 2023 in Walsall on the weekend of 2/3 Dec
:
Ava Thornton, Ellie Thornton, Eve Fielding, Ruby Oswald and Hali Farah.
The girls were supported by Head Coach - Anna Campbell (MHW) plus parents Claire Thornton and Julie Fielding